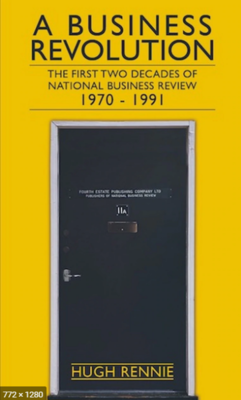 $39.99
NZD
Category: Business | Reading Level: near fine
How the captains of the last 50 years have gone about leading the world's most successful rugby team. The job of All Blacks captain comes with a scrutiny that puts it alongside the prime minister in terms of profile and public expectation. It takes a strong, confident and assured personality to capta in a team where failure is never tolerated. The Captain's Run is a behind the scenes journey into the world of All Blacks captaincy. It reveals how the great captains dealt with the pressure of the toughest job in world rugby, how they coped with failure, and what they would have done differently, if given their time again. ...Show more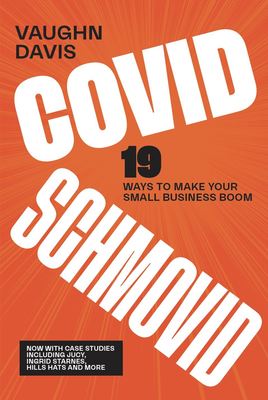 $24.99
NZD
Category: Business
It's a grab-bag of advice, inspiration, thought starters and practical tips for anyone wanting to grow or starts a sustainable, customer-focused business in a world no-one could have predicted. Packed with actionable insights for Kiwi business owners to be seen and sell to Kiwis and the world.
$37.99
NZD
Category: Business
How a New York Times bestselling author and New Yorker contributor parlayed a strong grasp of the science of human decision-making and a woeful ignorance of cards into a life-changing run as a professional poker player, under the wing of a legend of the game Maria Konnikova had never actually played po ker before and didn't even know the rules when she approached Erik Seidel - Poker Hall of Fame inductee, winner of tens of millions of dollars in earnings - and asked him to be her mentor. She had faced a stretch of personal bad luck, and her reflections on the role of chance in her life had pointed her to poker as the ultimate master class in learning to distinguish what can be controlled and what can't. Seidel was in, and soon Konnikova was down the rabbit hole with him, a journey that would lead her to the following year's World Series of Poker. Then something extraordinary happened. Under Seidel's guidance, Konnikova began to have many epiphanies about life that derived from her new pursuit, including how to better read not just her opponents but far more importantly herself. She found her way to making better decisions and to a place where she could accept luck for what it is, and what it isn't. But she also began to win. She even learned to like Las Vegas. In the end, Konnikova is a student of human behaviour, and ultimately the point of her incredible adventure was to render it into a container for its invaluable lessons. The biggest bluff of all, she learned is that skill is enough. This is a book that will focus your mind and strengthen your hand. ...Show more
$40.00
NZD
Category: Business
Netflix cofounder Reed Hastings reveals for the first time the unorthodox culture behind one of the world's most innovative, imaginative, and successful companies. There's never before been a company like Netflix. Not only because it has led a revolution in the entertainment industries; or because it ge nerates billions of dollars in annual revenue; or even because it is watched by hundreds of millions of people in nearly 200 countries. When Reed Hastings co-founded Netflix, he developed a set of counterintuitive and radical management principles, defying all tradition and expectation, which would allow the company to reinvent itself over and over on the way to becoming one of the most loved brands in the world. Rejecting the conventional wisdom under which other companies operate, Reed set new standards, valuing people over process, emphasizing innovation over efficiency, and giving employees context, not controls. At Netflix, adequate performance gets a generous severance and hard work is irrelevant. At Netflix, you don't try to please your boss, you practice radical candor instead. At Netflix, employees never need approval, and the company always pays top of market. When Hastings and his team first devised these principles, the implications were unknown and untested, but over just a short period of time they have led to unprecedented flexibility, speed, and boldness. The culture of freedom and responsibility has allowed the company to constantly grow and change as the world, and its members' needs, have also transformed. Here for the first time, Hastings and Erin Meyer, bestselling author of The Culture Map and one of the world's most influential business thinkers, dive deep into the controversial philosophies at the heart of the Netflix psyche, which have generated results that are the envy of the business world. Drawing on hundreds of interviews with current and past Netflix employees from around the globe and never-before-told stories of trial and error from his own career, No Rules Rules is the full, fascinating, and untold story of a unique company making its mark on the world. ...Show more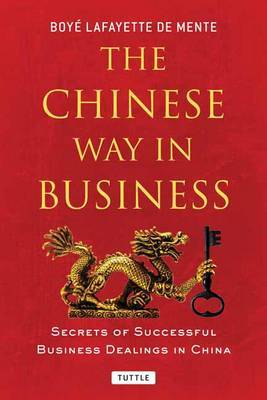 $19.99
NZD
Category: Business
Western technology, management expertise and capital have fueled an incredible expansion of China's economy. Each gain is hard-won, with true success gained when Western business people learn to navigate the intricacies of Chinese bureaucracy and culture. The Chinese Way in Business is an invaluable too l that teaches Westerners the basic Chinese philosophy of doing business and how to cultivate strong personal relationships with the Chinese.Boye Lafayette De Mente worked in Asia for over thirty years as a journalist and business consultant. In this book, he reveals the historical factors, collective traits and individual qualities that determine how the Chinese do business today, and the direction their economy will take in the future. His is a true insider's view--whether the topic is the legal framework for business development, or the importance of social relationships to successful business dealings in China.Put The Chinese Way in Business at the top of your reading list and achieve success! ...Show more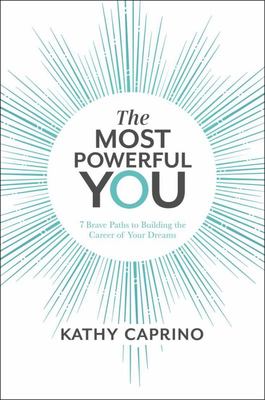 $36.99
NZD
Category: Business
A groundbreaking approach to identifying the power gaps women experience in their professional life and the key steps they can take to access greater internal and external power in their work and life.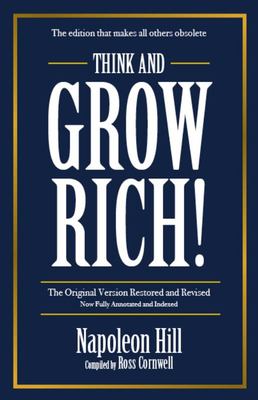 $29.99
NZD
Category: Business
Unlike most versions of Napoleon Hill's famous book, this edition restores his masterpiece to itsoriginal form and intent. It includes essential material on how to thrive in challenging economic timesthat was taken out of later versions but is incredibly relevant today. This is the only edition of Think andGrow Rich! that is fully annotated and indexed, providing key details about Dr. Hill's life and times, hislifelong research, and the leaders of business and industry he studied to glean the invaluable principlesof success you'll discover here.Think and Grow Rich!: The Original Version, Restored and Revised* is the only fully annotated version of Hill's 1937 masterpiece* contains 52 pages of endnotes not found elsewhere, representing 10 years of research about Hill and his era, the Think andGrow Rich Philosophy, and the use of the 'Carnegie Secret' to achieve success and accumulate wealth* faithfully restores sections of the original 1937 text ...Show more
$24.00
NZD
Category: Business
Imagine a world where…  · Your phone is too big for your hand Your doctor prescribes a drug that is wrong for your body In a car accident you are 47% more likely to be injured.  If any of that sounds familiar, chances are you're a woman.  From government policy and medical research, to techn ology, workplaces, and the media. Invisible Women reveals how in a world built for and by men we are systematically ignoring half of the population, often with disastrous consequences. Caroline Criado Perez brings together for the first time an impressive range of case studies, stories and new research from across the world that illustrate the hidden ways in which women are forgotten, and the profound impact this has on us all.  Our world is largely built for and by men, in a system that can ignore half the population. This book will tell you how and why this mattersIn her new book, Invisible Women, award-winning campaigner and writer Caroline Criado Perez shows us how, in a world largely built for and by men, we are systematically ignoring half the population. She exposes the gender data gap - a gap in our knowledge that is at the root of perpetual, systemic discrimination against women, and that has created a pervasive but invisible bias with a profound effect on women's lives. Caroline brings together for the first time an impressive range of case studies, stories and new research from across the world that illustrate the hidden ways in which women are excluded from the very building blocks of the world we live in, and the impact this has on their health and wellbeing. From government policy and medical research, to technology, workplaces, urban planning and the media - Invisible Women exposes the biased data that excludes women. In making the case for change, this powerful and provocative book will make you see the world anew. ...Show more
$26.00
NZD
Category: Business
We all have the sense that our economy tilts toward big business, but, as Joseph E. Stiglitz explains in People, Power, and Profits, a few corporations now dominate entire sectors, contributing to skyrocketing inequality and slow growth. This is how the financial industry has managed to write its own re gulations, tech companies have accumulated reams of personal data without oversight, and the government has negotiated trade deals that fail to represent the interests of workers. Too many have made their wealth through exploitation of others rather than through wealth creation. New technologies may make matters worse, increasing inequality and unemployment. Stiglitz identifies the true sources of wealth and of increases in standards of living, based on learning, advances in science and technology, and the rule of law. He shows that the assault on the judiciary, universities, and the media undermines the very institutions that have long been the foundation of economic prosperity and democracy. He sets out the economic solutions which will exploit the benefits of markets while taming their excesses, and how a decent middle-class life can once again be attainable for all. ...Show more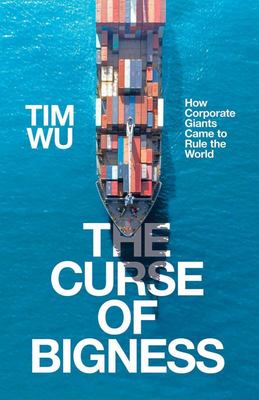 $32.99
NZD
Category: Business
An urgent and persuasive argument for why we must fight global monopolies to protect freedom and prosperity.
$35.00
NZD
Category: Business
The 7 habits have become famous and are integrated into everyday thinking by millions and millions of people. Why? Because they work! With Sean Covey's added takeaways on how the habits can be used in our modern age, the wisdom of the 7 habits will be refreshed for a new generation of leaders. They incl ude: Habit 1: Be Proactive Habit 2: Begin with the End in Mind Habit 3: Put First Things First Habit 4: Think Win/Win Habit 5: Seek First to Understand, Then to Be Understood Habit 6: Synergize Habit 7: Sharpen the Saw This beloved classic presents a principle-centered approach for solving both personal and professional problems. With penetrating insights and practical anecdotes, Stephen R. Covey reveals a step-by-step pathway for living with fairness, integrity, honesty, and human dignity—principles that give us the security to adapt to change and the wisdom and power to take advantage of the opportunities that change creates. ...Show more