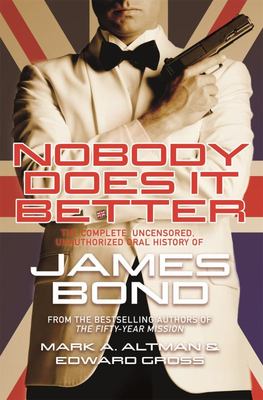 $47.99
NZD
Category: Arts
The ultimate oral history of the only gentleman secret agent with a license to kill...and thrill...telling the incredible, uncensored true stories of the James Bond franchise and spy mania.   For over five decades, the cinematic adventures of James Bond have thrilled moviegoers. Now, bestselling autho rs Mark A. Altman and Edward Gross take you behind-the-scenes of the most famous and beloved movie franchise of all-time filled with reflections from over 150 cast, crew, critics and filmmakers who reflect on the impact of this legendary movie franchise as well as share their thoughts about their favorite (and least) favorite 007 adventures and spy mania which gripped fans the world over in the wake of the success of the James Bond films.   From Russia--with love, of course--to Vegas, from below the bright blue waters of the Bahamas in search of a missing nuclear weapon to the top of the Golden Gate Bridge, from below the seas in Stromberg's new Noah's Ark of Atlantis into orbit with Hugo Drax, Nobody Does It Better: The Complete Uncensored, Unauthorized Oral History of James Bond tells the amazing, true story of the birth of James Bond through the latest remarkable James Bond adventures as well as the Spy mania classics that enthralled the world.   It's Bond and Beyond from the critically acclaimed authors of the bestselling The Fifty-Year Mission and So Say We All. ...Show more
$37.99
NZD
Category: Arts
A newly designed and repackaged paperback of the multi-million-copy bestseller: discover your innate creativity with The Artist's Way.
$39.99
NZD
Category: Arts
If you want to make it beyond Instagram as a photographer you have to give a solid listen to the ideas, tips and overall mindset that Finn shares in this workshop. @alexstrohl Don't just take a picture, make photos that move people. Storytelling is a gift to photographers, letting you weave together cha racters, events, locations and subjects into a work of beauty greater than the sum of its parts. There are as many stories to tell as pictures to take, but there are also tried-and-tested methods you can adopt to help improve your photography and streamline your workflow. In this beginner-to-pro workshop, award-winning photographer and influencer Finn Beales teaches enthusiasts and aspiring professionals how to master every element of the photographer's process. By following his five-step course - Pitch, Prepare, Shoot, Edit and Deliver - you will develop the same successful, reliable working methods that earn influence and delight audiences, regardless of what genre you're working in. Create intrigue, pull in your audience and tell richer, more rounded stories using your DSLR camera.Want to craft a shoot from start to finish? All the essentials are covered, from building a story into your creative, shoot preparation, the necessary gear and props, working with mood-boards and call sheets, compositional balance, and directing models, right through to post production, editing and file delivery. Discover within: What equipment you'll need, when and why; The secret to key shots and essential techniques; Plot devices to help you craft your narrative; Step-by-step DSLR projects to perfect your skills; Effortlessly capture events, landscapes, portraits, interiors and experiences; How to edit better and be different; Extra exercises to improve your smartphone photography. Compose for impact. Stand out through story. ...Show more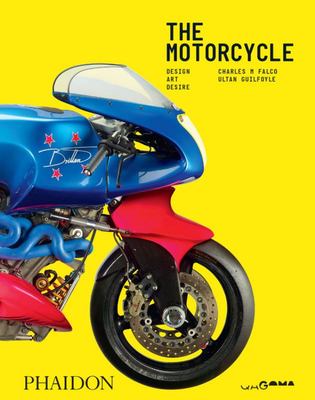 $90.00
NZD
Category: Arts
An essential and compelling exploration of the design, history, and culture of the motorcycle - an icon of the machine age Motorcycles are ubiquitous in the world's streets and cities, evolving over decades in engineering and design to meet individual transportation needs. With the coming demise of the internal combustion engine and the rise of electricpowered vehicles, motorcycle design is being revolutionized by new technologies, the demands of climate change, and global social transformation. The Motorcycle: Desire, Art, Designtraces the exciting evolution of this automotive icon -- and the culture of desire, freedom, and rebellion that surrounds it. ...Show more
Karl Maughan
by Hannah Valentine (Editor); Gabriella Stead (Editor)
$79.99
NZD
Category: Arts
A walk through the intricate painted gardens of Karl Maughan, one of New Zealand's most-loved contemporary artists. For more than three decades, Karl Maughan has created intricately painted gardenscapes, developing his own visual language to explore the forms of nature and the nature of form. Born in 1 964 in Wellington, Maughan studied at the Elam School of Fine Arts before moving to London in 1994. His works can be found in the local collections of the Museum of New Zealand Te Papa Tongarewa, Christchurch Art Gallery Te Puna o Waiwhetū and the Wallace Arts Trust, while internationally he has been collected by major arts organisations including the Saatchi Collection and the Arts Council Collection, London. He now lives back in Wellington. Maughan's paintings present idyllic yet unsettling enclosed spaces, characterised by their claustrophobic and colourful atmosphere. Ever faithful to his garden subject, Maughan continues to captivate his audiences with contemporary interpretations of an age-old subject. This first book on one of New Zealand's leading living artists features more than 150 beautifully reproduced images of Maughan's work, while writers and artists from New Zealand and the United Kingdom explore the deeper meanings of Karl Maughan's painted gardens. ...Show more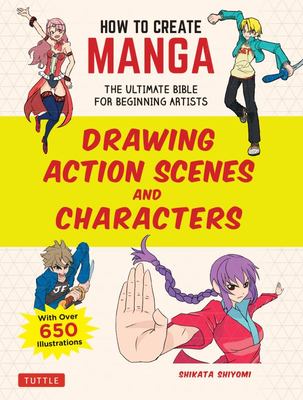 $32.99
NZD
Category: Arts
Whatever mood you're striking or scene you're setting, you need the drawing skills to render it just right. Drawing Action Scenes and Characters is most suited to digital artists, but the tips and techniques in this book are applicable to illustrators of all schools and persuasions. No matter where you 're at in your development as a manga master, this companion volume helps bring your skills to the next level. Follow along through the forty mini-lessons, created and guided by experts tapping into years of experience in the Japanese animation and entertainment industries. Open new pathways to your visual storytelling possibilities as your characters find themselves in increasingly complex and compellingly rendered scenarios. Tuttle'sHow to Create Manga series guides users through the process of reaching a professional-looking final drawing through actual sketch progressions, practical tips and caution on common missteps to avoid. Other books in the series includeHow to Create Manga: Drawing the Human Body,How to Create Manga: Drawing Facial Expressions andHow to Create Manga: Drawing Clothing and Accessories. ...Show more
$70.00
NZD
Category: Arts
A brand-new revised and updated edition of Phaidon's accessible, acclaimed A-Z guide to the most important artists of all time. Updated for only the third time in its 16-year history, this new edition of the award-winning landmark publication has been refreshed with more than 40 important new artists, i ncluding many previously overlooked and marginal practitioners. The new edition spotlights more than 600 great artists from medieval to modern times. Breaking with traditional classifications, it throws together brilliant examples from all periods, schools, visions, and techniques, presenting an unparalleled visual sourcebook and a celebration of our rich, multifaceted culture. Artists featured for the first time in this edition include:Berenice Abbott, Hilma af Klint, El Anatsui, Romare Bearden, Mark Bradford, Cao Fei, Cecily Brown, Judy Chicago, John Currin, Guerrilla Girls, Lee Krasner, Jacob Lawrence, Kerry James Marshall, Joan Mitchell, Zanele Muholi, Takashi Murakami, Louise Nevelson, Clara Peeters, Jenny Saville, Wolfgang Tillmans, and more. ...Show more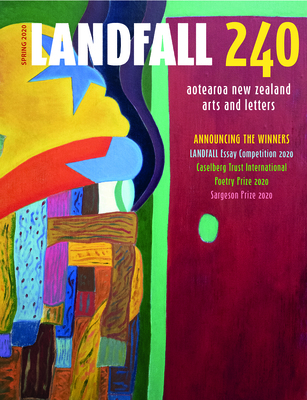 $30.00
NZD
Category: Arts | Reading Level: near fine
Landfall is New Zealand's foremost and longest-running arts and literary journal. It showcases new fiction and poetry, as well as biographical and critical essays, reviews and cultural commentary. Landfall 240 also features the winner of the 2020 Landfall Essay Competition as well as judges comments. ...Show more
Van Gogh
by Rainer Metzger; Ingo F. Walther
$46.00
NZD
Category: Arts | Series: Bibliotheca Universalis Ser.
Tortured talent: The genius and the angst of an Expressionist master Vincent van Gogh's story is one of the most ironic in art history. Today, he is celebrated the world over as one of the most important painters of all time, recognized with sell-out shows, feted museums, and record prices of tens of mi llions of dollars at auction.Yet as he was painting the canvases that would subsequently become these sell-out modern masterpieces, van Gogh was battling not only the disinterest of his contemporary audiences but also devastating bouts of mental illness, with episodes of depression and paralyzing anxiety which would eventually claim his life in 1890, when he committed suicide shortly after his 37th birthday.This comprehensive study of Vincent van Gogh (1853-1890) pairs a detailed monograph on his life and art with a complete catalogue of his 871 paintings. About the Series: Bibliotheca Universalis -- Compact cultural companions celebrating the eclectic TASCHEN universe at an unbeatable, democratic price Since we started our work as cultural archaeologists in 1980, the name TASCHEN has become synonymous with accessible, open-minded publishing. Bibliotheca Universalis brings together nearly 100 of our all-time favorite titles in a neat new format so you can curate your own affordable library of art, anthropology, and aphrodisia.Bookworm's delight -- never bore, always excite ...Show more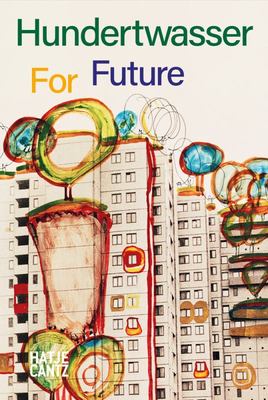 Hundertwasser for Future
by Friedensreich Hundertwasser (Text by); Pierre Restany (Text by); Carolin Würfel (Text by)
$39.99
NZD
Category: Arts
A pocket-sized collection of the Austrian visionary Hundertwasser's impassioned, prescient, illustrated manifestos for a green economy and democratic urbanism. The wildly colorful buildings and paintings of the legendary Austrian artist and environmentalist Hundertwasser (1928-2000) are beloved across t he world, and the subject of innumerable monographs. These works express a larger ethical vision that was always tied to his environmental activism, through writings that until now have perhaps been less well known than his architecture and buildings. In numerous conversations, lectures, letters and manifestos, Hundertwasser formulated his ideas on recycling, green roofs and facades, and the democratization of living space. These texts are now collected in English for the first time. The title of the book alludes to Greta Thunberg's Fridays for Future school strikes, as the urgency of Hundertwasser's ecological vision, considered by his contemporaries to be overly utopian, are now a matter of evident necessity. Commemorating the 20th anniversary of Hundertwasser's death, this attractive little book compiles his statements, excerpts from his manifestos, his paintings, examples of his utopian architecture and his ideas for the future. ...Show more
$40.00
NZD
Category: Arts
Both te reo Maori and English are presented in one redesigned edition. Based around the story of hapu Ngati Tu Maia, The Standing Strong House revolves around multiple generations, weaving their stories together in a way that celebrates tipuna, mokopuna, and kaitieki. Reina Kahukiwa's provides both the English and the te reo Maori text making this a wonderful reo resource for all. ...Show more