$37.00
NZD
Category: Crime
Tokyo, Japan.  Umiko Wada has had enough excitement in life. With an overbearing mother and her husband recently murdered, she just wants to keep her head down. As a secretary to a private detective, her life is pleasantly filled with coffee runs and paperwork. That is, until her boss takes on a new cas e. A case that is surrounded by shadows. A case that means Wada will have to leave Tokyo and travel to London. London, England. Nick Miller never knew his father, and was always told he wasn't missing much. But when an old friend of his late mother says there are things that Nick needs to know about his parents, he can't ignore it. When a chance encounter brings Wada and Nick together, they couldn't know the series of violent events set off by their investigations. And when they discover Nick's father might have been the only witness to a dark secret forever buried, they realise there are some powerful people who will do whatever it takes to keep it that way... ...Show more
$35.00
NZD
Category: Crime | Series: A\Temperance Brennan Novel Ser.
A storm has hit South Carolina, dredging up crimes of the past. On the way to Isle of Palms, a barrier island off the South Carolina coast, forensic anthropologist Temperance Brennan receives a call from the Charleston coroner. During the storm, a medical waste container has washed up on the beach. Ins ide are two decomposed bodies wrapped in plastic sheeting and bound with electrical wire. Chillingly, Tempe recognizes many details as identical to those of an unsolved case she handled in Quebec fifteen years earlier. With a growing sense of foreboding, she flies to Montreal to gather evidence and convince her boss Pierre LaManch to reopen the cold case. She also seeks the advice - and comfort - of her longtime beau Andrew Ryan. Meanwhile, a storm of a different type gathers force in South Carolina. The citizens of Charleston are struck by a bacterium that, at its worst, can eat human flesh. Thousands panic and test themselves for a rare genetic mutation that may have rendered them vulnerable. Shockingly, Tempe eventually discovers that not only are the victims in both grisly murder cases related, but that the murders and the disease outbreak also have a common cause...     ...Show more
$36.99
NZD
Category: Crime
Not all killers can be tamed... the thrilling second book in the Sunday Times bestselling Detective Jack Warr crime series.   Wild mustangs are difficult to rope, their lead stallion wary and protective of his herd. To capture that special stallion takes time. He is separated, roped, and lead back to t he ranch. Once tamed, he is sent back into the wild. And before long, he will lead the entire herd back to the ranch. He is given the name 'Judas Horse'.When Detective Jack Warr identifies an informer, the terrified man begins to give details of a massive robbery planned by a team of unscrupulous and dangerous men.These men have already orchestrated many audacious robberies, leaving terrified victims in their wake. And they have already killed to get what they want.Detective Jack Warr and his team must use their informant as a 'Judas Horse' to draw in the unsuspecting robbers, so that they go ahead with the planned robbery. However, one false move, and more blood will be spilled . . .   ...Show more
$24.99
NZD
Category: Crime
From the bestselling author of The Secrets She Keeps and Good Girl, Bad Girl comes a "gripping...urgent, poignant, and terrifying thriller" (Kirkus Reviews, starred review) featuring the brilliant forensic psychologist Cyrus Haven as he becomes embroiled in an explosive murder case with disturbing origi ns. Criminal psychologist Cyrus Haven and Evie Cormac return in this "powerhouse of a novel" (Booklist, starred review) from internationally bestselling author Michael Robotham, a writer Stephen King calls "an absolute master...with heart and soul." Who is Evie, the girl with no past, running from? She was discovered hiding in a secret room in the aftermath of a terrible crime. Her ability to tell when someone is lying helped Cyrus crack an impenetrable case in Good Girl, Bad Girl. Now, the closer Cyrus gets to uncovering answers about Evie's dark history, the more he exposes Evie to danger, giving her no choice but to run. Ultimately, both will have to decide if some secrets are better left buried and some monsters should never be named... ...Show more
$34.99
NZD
Category: Crime
The twenty-seventh installment of the #1 bestselling Inspector Banks series by "the grand master of the genre" (Literary Review), Peter Robinson. Detective Superintendent Alan Banks and his team are alerted to a cache of spycam video recordings, which have been found at the house of murdered property d eveloper Connor Clive Blaydon. It appears as though the videos were filmed at one of his infamous pool parties. As DI Annie Cabbot and DC Gerry Masterson investigate, they discover that one of the recordings appears to depict a rape, though the footage is blurry and it is impossible to identify anyone in the video. After technical enhancement, an acceptable image of the victim is produced and her identity puts into doubt the working theory about who was responsible for Blaydon's murder. Meanwhile, Banks's close friend Zelda is determined to hunt for the men who abducted her and forced her into prostitution. As her search intensifies, she returns to the place where everything began: the orphanage in Chișinău, Moldova. By stirring the murky waters of the past, she unknowingly puts herself into far greater danger than ever before . . . ...Show more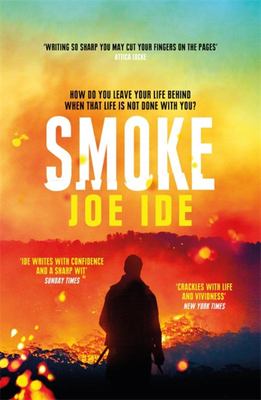 Smoke
by Joe Ide
$37.99
NZD
Category: Crime | Series: Iq Ser.
In this fifth installment of the IQ series, both Isaiah Quintabe - an unlicensed detective for all seasons - and his best friend and masterful sidekick, Juanell Dodson, are at a crossroads. This time, their lives may never be the same. Isaiah is no longer IQ, the genius of East Long Beach; instead he's a man on the road and on the run, hiding in a small Northern California town when his room is broken into by a desperate young man on the trail of the state's most prolific serial killer. Dodson must go straight or lose his wife and child. His devil's bargain is an internship at an LA advertising agency, where it turns out the rules of the street have simply been dressed in business casual, but where the aging company's fortunes may well rest on their ability to attract a younger demographic. Dodson - "the hustler's hustler" - just may be the right man for the job. Ide is the crime writer's crime writer, and he's filled his best novel with desperate souls, courageous outcasts, an ex-stripper who'll do anything to protect her son, and half-brothers who may be the very incarnation of evil. Filled with deft plotting, lacerating humor, and a keen eye for the ways in which characters rise or fall based on their ties to one another, SMOKE is Joe Ide's crowning achievement. ...Show more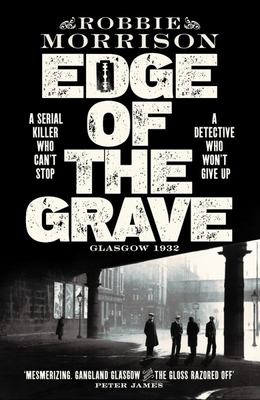 $34.99
NZD
Category: Crime | Series: Jimmy Dreghorn Ser.
Edge of the Grave by Robbie Morrison is a dark historical crime novel set in Glasgow, 1932. A city still recovering from the Great War; split by religious division and swarming with razor gangs. For fans of William McIlvanney's Laidlaw, Denise Mina and Philip Kerr. When Charles Geddes, son-in-law of one of the city's wealthiest shipbuilders, is found floating in the River Clyde with his throat cut, his beautiful widow Isla Lockhart asks for Inspector James Dreghorn to lead the murder case. Dreghorn has a troubled history with the powerful Lockhart family that stretches back to before the First World War and is reluctant to become involved. But facing pressure from his superiors, he has no choice in the matter. The investigation takes him and his partner 'Bonnie' Archie McDaid from the flying fists and flashing blades of the Glasgow underworld to the backstabbing upper echelons of government and big business in order to find out who wanted Charles Geddes dead and why. As the case deepens, the pair will put their lives on the line in the pursuit of a sadistic killer who is ready to strike again . . . ...Show more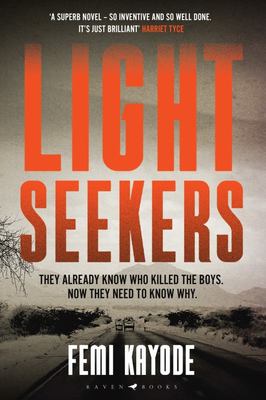 $32.99
NZD
Category: Crime
A respected Nigerian psychologist travels to a remote southern border town to uncover the truth about the murder of three university students When Dr. Philip Taiwo is called on by a powerful Nigerian politician to investigate the public torture and murder of three university students in Port Harcourt, h e has no idea that he's about to be enveloped by a perilous case that is far from cold. Philip is not a detective. He's an investigative psychologist, an academic more interested in figuring out the why of a crime than actually solving it. But when he steps off the plane and into the dizzying frenzy of the provincial airport, he soon realizes that the mob-driven murder of the Okriki Three isn't as straight forward as he thought. With the help of his loyal and streetwise personal driver, Chika, Philip must work against those actively conspiring against him to parse together the truth of what happened to these students. A thrilling and atmospheric mystery, and an unforgettable portrait of the contemporary Nigerian sociopolitical landscape, LIGHTSEEKERS is a wrenching novel tackling the porousness between the first and third worlds, the enduring strength of tribalism and homeland identity, and the human need for connection in the face of isolation. ...Show more
$19.99
NZD
Category: Crime | Series: Vera Stanhope Ser.
DCI Vera Stanhope returns in <i>The Darkest Evening</i>, the ninth novel in <i>Sunday Times </i>bestseller Ann Cleeves' enduringly popular series. Driving home during a swirling blizzard, Vera Stanhope's only thought is to get there quickly. But the snow is so heavy, she becomes disoriented and loses her way. Ploughing on, she sees a car slewed off the road ahead of her. With the driver's door open, Vera assumes the driver has sought shelter but when she inspects the car she is shocked to find a young toddler strapped in the back seat. Afraid they will freeze, Vera takes the child and drives on, arriving at Brockburn, a run-down stately home she immediately recognizes as the house her father Hector grew up in. Inside Brockburn a party is in full swing, with music and laughter to herald the coming Christmas. But outside in the snow, a young woman lies dead and Vera knows immediately she has a new case. Could this woman be the child's mother, and if so, what happened to her? A classic country house mystery with a contemporary twist, Ann Cleeves returns with a brilliant Vera novel to savour. ...Show more
Later
by Stephen King
$24.99
NZD
Category: Crime
#1 bestselling author Stephen King returns with a brand-new novel about the secrets we keep buried and the cost of unearthing them. SOMETIMES GROWING UP MEANS FACING YOUR DEMONS The son of a struggling single mother, Jamie Conklin just wants an ordinary childhood. But Jamie is no ordinary child. Born w ith an unnatural ability his mother urges him to keep secret, Jamie can see what no one else can see and learn what no one else can learn. But the cost of using this ability is higher than Jamie can imagine — as he discovers when an NYPD detective draws him into the pursuit of a killer who has threatened to strike from beyond the grave. Later is Stephen King at his finest, a terrifying and touching story of innocence lost and the trials that test our sense of right and wrong. With echoes of King's classic novel It, Later is a powerful, haunting, unforgettable exploration of what it takes to stand up to evil in all the faces it wears. ...Show more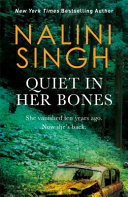 $34.99
NZD
Category: Crime
In this gripping thriller set in New Zealand, New York Times bestselling author Nalini Singh takes you into the twisted world of an exclusive cul-de-sac located on the edge of a sprawling forest.My mother vanished ten years ago.So did a quarter of a million dollars in cash.Now, she's back.Her bones clot hed in scarlet silk.When socialite Nina Rai disappeared without a trace, everyone wrote it off as another trophy wife tired of her wealthy husband. But now her bones have turned up in the shadowed green of the forest that surrounds her elite neighbourhood, a haven of privilege and secrets that's housed the same influential families for decades.The rich live here, along with those whose job it is to make their lives easier. And somebody knows what happened to Nina one rainy night ten years ago. Her son Aarav heard a chilling scream that night, and he's determined to uncover the ugly truth that lives beneath the moneyed elegance . . . but no one is ready for the murderous secrets about to crawl out of the dark.Even the dead aren't allowed to break the rules in this cul-de-sac.Praise for A Madness of Sunshine:'Singh puts her previous writing experience to great effect in this accomplished novel' Sunday Times'An atmospheric read with a compelling sense of the spectacular rugged landscape' Guardian ...Show more
$37.00
NZD
Category: Crime
Propelling the reader back and forth between the 1940s, 1960s and 1980s, The Silent Listener is an unforgettable literary suspense novel set in the dark, gothic heart of rural Australia. In the cold, wet summer of 1960, 11-year-old Joy Henderson lives in constant fear of her father. She tries to make him happy but, as he keeps reminding her, she is nothing but a filthy sinner destined for Hell . . . Yet, decades later, she returns to the family's farm to nurse him on his death bed. To her surprise, her 'perfect' sister Ruth is also there, whispering dark words, urging revenge. Then the day after their father finally confesses to a despicable crime, Joy finds him dead - with a belt pulled tight around his neck . . . For Senior Constable Alex Shepherd, investigating George's murder revives memories of an unsolved case still haunting him since that strange summer of 1960- the disappearance of nine-year-old Wendy Boscombe. As seemingly impossible facts surface about the Hendersons - from the past and the present - Shepherd suspects that Joy is pulling him into an intricate web of lies and that Wendy's disappearance is the key to the bizarre truth. ...Show more