$34.99
NZD
Category: Thriller
A chilling thriller that's perfect for fans of Get Out and The Haunting of Hill House. A dinner party is held in the penthouse of a multimillion-pound development. All the guests are strangers - even to their host, the billionaire owner of the building. None of them know why they were selected to rece ive his invitation. Besides a postcode, they share only one thing in common - they've all experienced an unsettling occurrence within the building's walls. By the end of the night, their host is dead, and none of the guests will say what happened. His death remains one of the biggest unsolved mysteries - until now. ...Show more
Box 88
by Charles Cumming
$32.99
NZD
Category: Thriller
An organisation that doesn't exist. A spy that can't be caught. 1989: The fall of the Berlin Wall is imminent and the Cold War will soon be over. But for Box 88, a top secret spying agency known only to an inner circle of MI6 and CIA operatives, the espionage game is heating up. Lachlan Kite, recruited straight from an elite board school, is sent to France - the frontline of a new secret war. Kite is tasked with gathering intelligence on a mysterious Iranian businessman implicated in the tragic Lockerbie bombing. But what he uncovers is even more deadly... 2020: MI5 hear rumours of Box 88's existence and go after Kite - only for Iranian intelligence to get to him first.  Taken captive and subjected to torture, Kite is presented with a simple choice: reveal the truth about what happened in France thirty years earlier - or watch his family die. Past and present merge, as MI5 and Box 88 are caught up in a race against time to save Kite. ...Show more
$37.99
NZD
Category: Thriller
SHE'S LOST EVERYTHING EXCEPT HER LIFE . . . Lieutenant Lorraine Page had everything -- a devoted husband, two beautiful daughters and an impressive career with the Homicide Squad. It's impossible to believe that she could be thrown out of the police force and end up on Skid Row. Lorraine's ex-colleagues soon forget her, as the hunt for a nightmare serial killer spirals into an all-out search for a missing witness: a victim who escaped. Lorraine Page is that witness. Against her will she is drawn into the investigation, and forced to face her past and her overwhelming guilt... ...Show more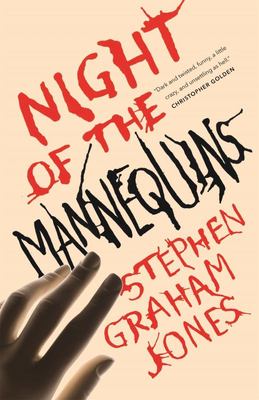 $27.99
NZD
Category: Thriller
Award-winning author Stephen Graham Jones returns withNight of the Mannequins, a contemporary horror story where a teen prank goes very wrong and all hell breaks loose: is there a supernatural cause, a psychopath on the loose, or both? Praise forNight of the Mannequins "Reading Stephen Graham Jones is like sitting in the corner of a bar with an old friend, and everyone quiets down the moment they start telling a story.Night of the Mannequins is dark and twisted, funny, a little crazy, and unsettling as hell. The opening setup gets way under your skin, and then Jones takes the story somewhere much darker than you imagined. If there's an heir apparent to the kind of no-rules, wild imagination, down home storytelling perfected by Joe R. Lansdale, it's this guy right here. Read him."--Christopher Golden "Sly, surprising psychic sleight-of-hand, in a tale of teenage madness where the next plastic face might be your own."--John Skipp "Wicked and wry, this is a terrific story by one of my favorite writers, Stephen Graham Jones. Tip-top with a twist of dead. The narrator's first person delivery is the most notable aspect of this surprising and creepy tale that nods to popular stalker-killer films of the past, but is so much better than the bulk of those films, and what an ending. You definitely need this."--Joe R. Lansdale "Stephen Graham Jones' has one of the most gripping, stream-of-consciousness voices in horror fiction.Night of the Mannequins is propulsive and poignant, capturing the mundane terror of adolescence, and adding that ever-so-essential dab of killer mannequin. You won't put it down." --Sarah Langan ...Show more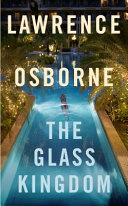 $37.00
NZD
Category: Thriller
A tense, stunningly well-observed heist novel following an American woman on the run in the blazing heat of Bangkok, from 'a modern Graham Greene' (Sunday Times) Sarah Talbot Jennings, a young American living in New York, has fled to Bangkok to disappear. Arriving with a suitcase containing $200,000, s he rents an apartment at the Kingdom, a glittering high-end complex slowly sinking into its own twilight - and run by conveniently discreet staff. In Bangkok's shocking heat Sarah meets the beguiling Mali, a half-Thai tenant who's strangely determined to bring the quiet American out of her shell. An invitation to Mali's poker nights soon follows, where - fuelled by shots of yadong, gossip of shady dealings in the city and the hit of marijuana - Sarah is drawn into the orbit of the Kingdom's glamorous ex-pat women. But when an attempted military coup wracks the streets below and Sarah witnesses something unspeakable through one of the Kingdom's windows, only to be followed by a series of strange disappearances, Sarah's safe haven begins to feel like a trap. From a master of atmosphere and suspense, The Glass Kingdom is a brilliantly unsettling story of cruelty and psychological unrest, and an enthralling glimpse into the shadowy crossroads of karma and human greed. ...Show more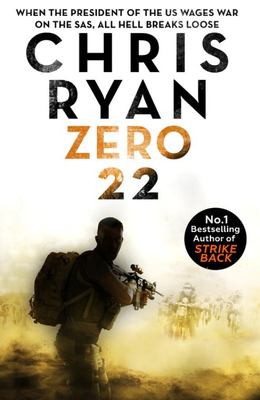 $34.99
NZD
Category: Thriller
The SAS is operating covertly in the wartorn badlands of northern Syria. They know it will be gritty, bloody and dangerous. But when Regiment legend Danny Black's unit, codenamed Zero 22, is tasked with a more routine operation, they don't expect it to end the way it does: in compromise and massacre, or chestrated by the shadowy Wagner Group, a paramilitary organisation in thrall to the Russian president. Back in the UK, Danny learns that his unit was betrayed by a mole feeding high-level military intelligence to the Russians. Like any SAS man worthy of the name, his first thought is to avenge the men who lost their lives on the Zero 22 op. He has no hesitation in accepting the mission to assassinate the man responsible for the death of his mates. But the headshed have more complicated plans and Danny finds himself operating with a face from his past whom he never thought he would see again. Together they embark on a high-risk, deniable mission that will require all Danny's Regiment skills if they are to have any hope of success. As the mission unfolds, however, Danny learns that darker forces are at play. And when everything he thinks he knows gets turned on its head, he realises that what started out as an act of revenge is just a single play in a conspiracy that will take him across the continents and pit him not only against the highly trained militants of the Wagner Group, but against the Kremlin, the White House and the insidious machinations of the most powerful men in the world. ...Show more
$32.99
NZD
Category: Thriller
Amanda and Clay head to a remote corner of Long Island expecting a holiday: a quiet reprieve from life in New York City, quality time with their teenage son and daughter, and a taste of the good life in the luxurious home they've rented for the week. But a late-night knock on the door breaks the spell. Ruth and G. H. are an older couple - it's their house, and they've arrived in a panic. They bring the news that a sudden blackout has swept the city. But in this rural area - with the TV and internet now down, and no phone service - it's hard to know what to believe. Should Amanda and Clay trust this couple - and vice versa? What happened back in New York? Is the holiday home, isolated from civilisation, a truly safe place for their families? And are they safe from one another? Suspenseful and provocative, Rumaan Alam's third novel is keenly attuned to the complexities of parenthood, race, and class. Leave the World Behind explores how our closest bonds are reshaped - and unexpected new ones are forged - in moments of crisis. ...Show more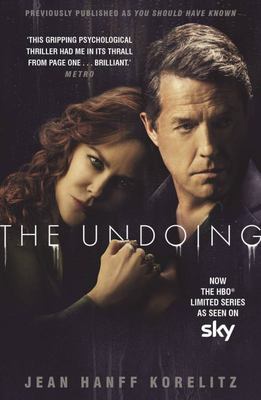 $22.99
NZD
Category: Thriller
Get ready for The Undoing, soon to be the most talked about TV of 2020. From the creators of Big Little Lies, The Undoing premieres this autumn starring Nicole Kidman, Hugh Grant and Donald Sutherland. 'A great psychological thriller ... I couldn't put it down.' Daisy Goodwin 'A brilliant addition to the Oops-I-Married-a-Sociopath genre, started by Gillian Flynn's Gone Girl.' Metro A New York Times bestseller Grace Sachs, a happily married therapist with a young son, thinks she knows everything about women, men and marriage. She is about to publish a book based on her pet theory: women don't value their intuition about men, leading to serious trouble later on. But how well does Grace know her own husband? She is about to find out, and in the place of what she thought she knew, there will be a violent death, a missing husband, and a chain of terrible revelations. Left behind in the wake of a very public disaster, and horrified by the ways in which she has failed to heed her own advice, Grace must dismantle one life and create another for herself and her child.   ...Show more
$37.00
NZD
Category: Thriller
A scandalous double homicide in the nation's capital opens the psychological case files on . . . Detective Alex Cross. Until Kay Willingham's stocking murder inside a luxury limousine, the Georgetown socialite, philanthropist, and ex-wife of the sitting vice-president led a public life. But few -- inclu ding her onetime psychologist -- had any inkling of Kay's troubled past in the Deep South. Murdered alongside her is Randall Christopher, a respected educator with political ambitions that may have endangered both their lives. While John Sampson of DC Metro Police tracks Randall's final movements, Alex and FBI Special Agent Ned Mahoney travel to Alabama to investigate Kay's early years. They discover that although Kay had many enemies, none of them had a full motive -- all of them needed her alive. Alex is left without a viable suspect, and facing a desperate choice between breaking a trust and losing his way -- as a detective, and the protector of his family. ...Show more
$19.99
NZD
Category: Thriller | Series: Amos Decker Ser.
Remember his name: FBI Agent Amos Decker is back in a brand new thrilling memory man investigation from number 1 bestseller, David Baldacci. A town with a secret. A lone hunter discovers the remains of a woman in North Dakota's Badlands. She appears to have had a post-mortem performed on her reminisce nt of those only seen on TV shows - but this time, there was no slab, morgue or camera in sight. A victim without a past. The reason why Irene Cramer's death merits an FBI investigation becomes rapidly clear when key questions surface about her mysterious past. Little is known about this school teacher, where she came from or her true identity. She clearly had something to hide. A hero with a unique skill. FBI investigator, Amos Decker and his colleague, Alex Jamison, are summoned to seek answers in the local community of London, North Dakota, which sits at the very heart of the fracking industry. Enriched with oil money, jealousy and a deep-set rivalry lie beneath a veneer of glitz and opulence. Decker soon realizes that the nearby 'eye in the sky', the Air Force Station, may hold the vital clues and that this town holds secrets so explosive that they could destabilize the entire country . . Walk the Wire by David Baldacci is the sixth book in the Amos Decker series. Once read, never forgotten. ...Show more
$29.99
NZD
Category: Thriller
From one of the most dazzling and essential voices in American fiction, a timely and compelling novel set in the near future about five people gathered together in a Manhattan apartment, in the midst of a catastrophic event. Don DeLillo completed this novel just weeks before the advent of Covid-19. The Silence is the story of a different catastrophic event. Its resonances offer a mysterious solace. It is Super Bowl Sunday in the year 2022. Five people, dinner, an apartment on the east side of Manhattan. The retired physics professor and her husband and her former student waiting for the couple who will join them from what becomes a dramatic flight from Paris. The conversation ranges from a survey telescope in North-central Chile to a favorite brand of bourbon to Einstein's 1912 Manuscript on the Special Theory of Relativity. Then something happens and the digital connections that have transformed our lives are severed. What follows is a dazzling and profoundly moving conversation about what makes us human. Never has the art of fiction been such an immediate guide to our navigation of a bewildering world. Never have DeLillo's prescience, imagination, and language been more illuminating and essential. ...Show more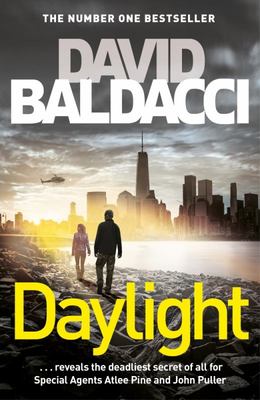 $34.99
NZD
Category: Thriller | Series: Atlee Pine Ser.
The gripping third title in the FBI special agent Atlee Pine series. Atlee joins forces with old friend and military investigator, John Puller, in her search for the truth about her sister.