$19.99
NZD
Category: Chapter Books
Meet Hilda - explorer, adventurer, avid sketchbook-keeper and friend to every creature in the valley! Well ... almost every creature. We rejoin our favourite blue-haired heroine to find her warding off the nightmarish Marra, rescuing weather spirits and searching for the elusive black hound ... and she' s still got to make it to the Sparrow Scout badge ceremony on time! There is no shortage of unexpected twists, turns and new friends in this latest instalment of the Hilda fiction series.   ...Show more
$19.99
NZD
Category: Chapter Books | Series: Emmie and Friends
Perfect for fans of Raina Telgemeier and Jennifer L. Holm, Invisible Emmie is a humorous and surprising debut graphic novel by Terri Libenson, creator of the internationally syndicated, Reuben Award-winning comic strip The Pajama Diaries. This is the story of two totally different girls--quiet, shy, ar tistic Emmiepopular, outgoing, athletic Katie--and how their lives unexpectedly intersect one day, when an embarrassing note falls into the wrong hands. . . .All the crushes, humiliations, boredom, and drama of middle school are compressed into one surprising day in this extraordinary novel. Plus don't miss Terri Libenson's Positively Izzy, Just Jaime, and Becoming Brianna --Victoria Jamieson, Newbery Honor author-illustrator of Roller Girl ...Show more
$19.99
NZD
Category: Chapter Books | Series: Emmie and Friends
National bestselling author Terri Libenson returns with another endearing, relatable story of friendship and finding confidence. Perfect for fans of Raina Telgemeier and Jennifer L. Holm. Middle school is full of challenges. Everyone knows how much brainy Bri likes the spotlight (not). So why did she ever agree to something that forces her to learn a new language, give a speech, help organize a party, and juggle drama at school and home?! As the big event inches closer, Bri wonders if it's all worth it. . . . Told in alternating past and present chapters, Bri's heartwarming story unfolds over the eight months leading up to her bat mitzvah--as well as over the course of the big day itself. Plus don't miss Terri Libenson's Invisible Emmie, Positively Izzy, and Just Jaime! ...Show more
$19.99
NZD
Category: Chapter Books | Series: Emmie & Friends
Award-winning comics creator and author of the bestselling Invisible Emmie Terri Libenson returns with a companion graphic novel that captures the drama, angst, and humor of middle-school life. Perfect for fans of Raina Telgemeier, Jennifer Holm, and Victoria Jamieson.Middle school is all about labels.I zzy is the dreamer. There's nothing Izzy loves more than acting in skits and making up funny stories. The downside? She can never quite focus enough to get her schoolwork done.Bri is the brain. But she wants people to see there's more to her than just a report card full of As. At the same time, she wishes her mom would accept her the way she is and stop bugging her to "break out of her shell" and join drama club.The girls' lives converge in unexpected ways on the day of a school talent show, which turns out to be even more dramatic than either Bri or Izzy could have imagined. ...Show more
$19.99
NZD
Category: Chapter Books | Series: Emmie and Friends
Another spot-on story of middle school drama and friendship from Terri Libenson, national bestselling author of Invisible Emmie and Positively Izzy. Friends. Frenemies. Middle school... The last day of seventh grade has Jaime and Maya wondering who their real friends are. Jaime knows something is off with her friend group. They've started to exclude her and make fun of the way she dresses and the things she likes. At least she can count on her BFF, Maya, to have her back . . . right? Maya feels more and more annoyed with Jaime, who seems babyish compared to the other girls in their popular group. It's like she has nothing in common with Jai anymore. Are their days as BFFs numbered . . . ? Perfect for fans of Raina Telgemeier and Jennifer L. Holm. ...Show more
$18.99
NZD
Category: Chapter Books | Series: Dog Man
A brand-new graphic novel series by Dav Pilkey, the internationally bestselling author and illustrator of the DOG MAN and CAPTAIN UNDERPANTS series. Welcome to the Cat Kid Comic Club, where Li'l Petey (LP), Flippy, and Molly introduce twenty-one rambunctious, funny, and talented baby frogs to the art of comic making. As the story unwinds with mishaps and hilarity, readers get to see the progress, mistakes, and improvements that come with practice and persistence. Squid Kid and Katydid, Baby Frog Squad, Gorilla Cheese Sandwich, and Birds Flowers Tree: A Haiku Photo Comic are just some of the mini-comics that are included as stories-within-the-story, each done in a different style, utilizing humour and drama, prose and poetry, illustrated in different media including acrylics, pastels, coloured pencils, felt-tip markers, clay, hand-made cardboard sculptures, photographs, pipe cleaners, construction paper collages, and cookies. Readers of all ages will be inspired to dream up their own stories and unleash their own creativity as they dive into this pioneering graphic novel adventure from Dav Pilkey and his heartfelt, humorous, and amazing cast of characters in the Cat Kid Comic Club. ...Show more
$19.99
NZD
Category: Chapter Books
A stunning middle grade fantasy about a girl who used to be a dragon and her adventure to save her new home--from Even the Darkest Stars author Heather Fawcett. Perfect for fans of the Nevermoor and His Dark Materials series.Ember St. George is a dragon. At least she was before her adoptive father--a po werful but accident-prone Magician--turned her into a human girl to save her life. Unfortunately, Ember's growing tendency to burst into flames at certain temperatures--not to mention her invisible wings--is making it too dangerous for her to stay in London. The solution: ship Ember off to her aunt's research station in frigid Antarctica.Though eccentric Aunt Myra takes getting used to, Ember quickly feels at home in a land of ice storms, mischievous penguins, and twenty-four-hour nights. She even finds herself making friends with a girl genius called Nisha and a mysterious orphan named Moss.Then she discovers that Antarctica is home to the Winterglass Hunt, a yearly tradition in which rare ice dragons are hunted for their jeweled scales. Furious, Ember decides to join the hunt to sabotage it from the inside.But being an undercover dragon isn't easy--especially among dragon hunters. Can a twelve-year-old fire dragon survive the dangers that come her way in the Antarctic wilderness and protect the ice dragons from extinction? ...Show more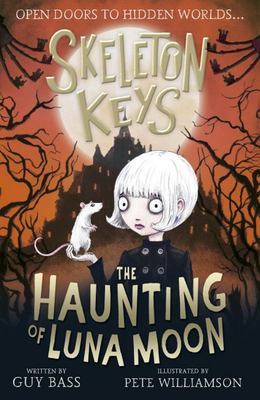 $17.99
NZD
Category: Chapter Books | Series: Skeleton Keys Ser.
The second tall-but-true tale in the darkly comic new series SKELETON KEYS from the award-winning duo behind STITCH HEAD...Greetings My name is Skeleton Keys and these fantabulant fingers of mine can open doors to hidden worlds... Join me for the strange tale of Luna Moon, whose family is disappearing before her very eyes...Luna is the only one to mourn the death of her grandfather Old Man Moon - the rest of her family couldn't be happier to see the back of the bad-tempered old miser. But as they celebrate his demise with a giddy jig, Aunt Summer vanishes ... only to reappear as a painting.While Luna is convinced her grandfather has kept his word to haunt them from beyond the grave, Skeleton Keys is certain that this is the work of an unimaginary. Can he get to the bottom of the mystery before the whole of Luna's family disappears?Read Skeleton Keys' first unbelievably true tale: THE UNIMAGINARY FRIEND Perfect for fans of David Walliams, AMELIA FANG and THE NOTHING TO SEE HERE HOTEL.Praise for SKELETON KEYS: "Guy has mixed cleverly-created characters with his trademark humour and wit to give us his best book yet. This is one spooky series I'm going to devour " Authorfy ...Show more
$18.99
NZD
Category: Chapter Books
After a traumatic run-in with the fortune teller from a visiting funfair-thanks to an unfortunately-timed sneeze-Riley finds himself CURSED. Life as he knows it quickly becomes a catalogue of disasters-from wetting himself onstage during the school show, accidentally supergluing himself to his classmate s and ruining the school football team's sponsorship deal, to flooding his house and losing class 4's pet rabbit-Riley knows the bad luck is out to get him. Enter new kid: Brad Chicago. He's super-cool, well-groomed and stylish, with an excellent stationery collection. And for some reason he wants to be Riley's friend. Can Riley get rid of the curse before Brad discovers he's a walking disaster? ...Show more
$16.99
NZD
Category: Chapter Books | Series: Geronimo Stilton
It's the grand opening of Traps new superstore, but nothing is working. The lights won't turn on, the doors won't open, and the loudspeaker is broken. Geronimo must figure out who is trying to sabotage the grand opening!
$21.99
NZD
Category: Chapter Books | Series: Thea Stilton Special Edition
The Thea Sisters are summoned to the Seven Roses Unit by Will Mystery, but when they get there Will is missing! The sisters must follow a trail of clues to the Fantasy Kingdoms on their quest to find Will.
$19.99
NZD
Category: Chapter Books
This is a collection of humorous stories about the Delmonico family. Discover what happens when Mrs Delmonico announces she is feeling a little blue and promptly turns blue, and meet the cat who becomes a poet and the girl who starts a craze for hanging upside down.