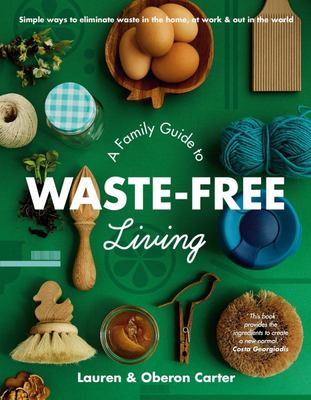 $39.99
NZD
Category: Parenting | Reading Level: 8
Tackle our ever-growing waste problem with all the information, advice, budget-friendly recipes and projects you'll need to start reducing waste in your life. A Family Guide to Waste-free Living makes it simple and sustainable for families to eliminate waste in the home, at work and out in the world. Th is is a practical and inspiring resource for anyone wanting to live more sustainably. When it comes to waste-free living, Lauren and Oberon Carter really know their stuff. In 2015, they decided to get serious about minimising their ecological footprint, successfully reducing their energy consumption by more than 60 per cent and transitioning to living completely waste and recycling free. They have written this fantastic guide to help and encourage other families do the same. A Family Guide to Waste-free Living provides a roadmap for anyone wanting to reduce their waste. It is packed with information and offers practical and achievable solutions for eliminating waste in the home, at work and in the world.Inside you'll find:- Simple activities for the whole family.- Instructions on building waste-free kits for around the house and out and about.- A plan for creating change by advocating to government and business.- Tackle our ever-growing waste problem with all the information, advice, budget-friendly recipes and projects you'll need to start reducing waste in your life. ...Show more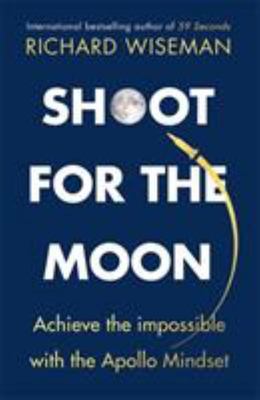 $37.99
NZD
Category: Parenting | Reading Level: 4 Non Fiction
20th July 1969: Neil Armstrong becomes the first person to walk on the Moon. We all recognize this to be one of mankind's greatest achievements. Yet what did it take to make John F. Kennedy's dream a reality? In this remarkable book, Professor Richard Wiseman presents a pioneering study of the mindset t hat took humanity to the Moon, and shows how you can harness and use it to achieve the extraordinary in your everyday life. Combining personal interviews, mission archives and cutting-edge psychology, Wiseman embarks on the ultimate voyage through inner space. Along the way he identifies eight key principles that make up the Apollo Mindset, including how pessimism is crucial to success, and how fear and tragedy can be transformed into hope and optimism. You will discover a series of practical techniques that you can use to incorporate these winning principles into both your professional and personal life. Whether you want to start a business venture, change careers, find your perfect partner, raise a loving family, get promoted, gain a new qualification, escape the rat race, or pursue a lifelong passion, these techniques will help you to reach your own Moon. ...Show more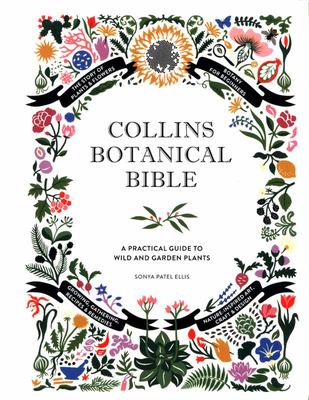 $64.99
NZD
Category: Parenting
The Botanical Bible tells the story of plants and flowers, beginning with an overview of the plant kingdom and the basics of botany, then offering strategies for gardening with purpose. Later chapters introduce seasonal eating, the healing properties of plants and the world of botanical art. This stunni ng gift book is part history, part science, part beauty book, part cookbook and part art book. It will appeal to anyone wanting to use plants and flowers in modern life, whether they are an accomplished gardener or are simply yearning for a more natural life. This comprehensive guide to plants, flowers and botanicals covers a host of practical uses, features vintage illustrations alongside the work of current artists, and is sure to be an inspiration to anyone interested in the natural world. ...Show more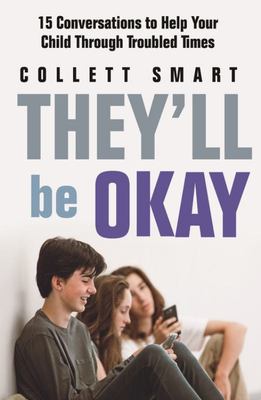 $37.99
NZD
Category: Parenting
Teens and tweens are struggling with social media, relationships, and so much of what modern life is throwing at them. It's impossible for parents to be experts on all the new challenges their children are facing. That's why it's essential to turn to a real expert. Collett Smart is a psychologist, teach er, lecturer, writer - and a mum of three. She knows that it is crucial for parents to discuss uncomfortable, yet fundamentally important topics with their children - and this book tells parents why and how. If you're a parent who feels like you just don't know how to talk to your children about some of these difficult topics, this book has all the tools you need. There is invaluable advice on how to talk about some of the most confronting subjects, including pornography, misogyny and harassment, objectification and body image. There's also important information about emotional intelligence, empathy, respect and manners. Whether you want to prepare your child for the years ahead or you have an issue that needs to be addressed right now, this is the must-have book to help keep your children safe, whole and happy in these challenging times. ...Show more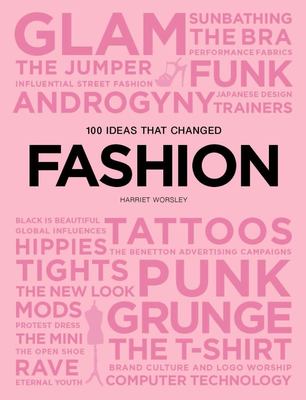 $35.00
NZD
Category: Parenting | Series: Pocket Editions Ser.
Charting the movements, developments and ideas that transformed the way women dress, this book gives a unique perspective on the history of twentieth-century fashion. From the invention of the bias cut and the stiletto heel to the designers who changed the way we think about clothes, the book is enterta ining, intelligent and a visual feast. ...Show more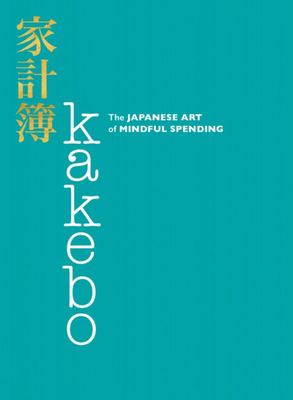 Kakebo
by Natalie Danford (Translator)
$25.00
NZD
Category: Parenting
Control your spending, save money, regain peace of mind, and make your life happier and healthier with Kakebo--the traditional Japanese method of money management that is still widely used today. Having enough money to live is one of the most important factors affecting our health. Trying to balance ex penses--utility bills, housing, healthcare, food, and for many, the costs of raising children (not to mention paying for college )--leaves us worried and stressed. But there is a solution: Kakebo, a practical, proven method that helps you keep track of every penny, manage spending, and save up to thirty percent more With this invaluable guide you'll interact with your spending every day for two years, and learn how to manage your personal budget. Designed like a diary, it allows you to record all your daily expenses week by week so you can see exactly where your money goes. Each day is divided into four categories: 1. primary needs--food, personal hygiene, children; 2. optional needs--shopping, cosmetics, gifts; 3. culture and free time--restaurants, books, entertainment; and 4. extras/foreseeable expenses--such as travel, repairs, tuition, and taxes. Kakebo begins with setting a monthly budget. At the beginning of each month, enter your fixed incoming funds and outgoing expenses, and set a savings target. Then, each day, record your various expenses. By keeping close tabs on what you're spending, you'll be able to identify the waste and see the most significant areas where adjustments can be made. Kakebo also offers practical and motivating tips that teach you how to save more successfully. Kakebo isn't just about money--it helps to develop self-awareness, self-discipline, and self-esteem, and promotes peace of mind. Best of all, you can begin any time of year--individually marking the months and days without wasting any pages. Plus, its simple yet inviting for-color graphics help you break down each expense and easily identify see where adjustments need to be made. ...Show more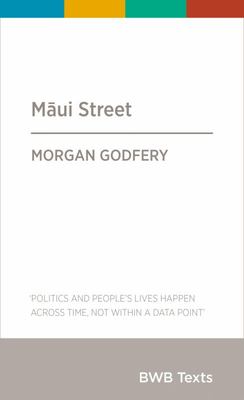 $14.99
NZD
Category: Parenting | Reading Level: very good
Everyone lives a messy, unusual life. There is no normal. The sooner our politics understands this, the better off we will all be.' Morgan Godfery is one of New Zealands most energising young thinkers. In just a few years he has become a leading voice in the countrýs social and political life. Starting out under his own banner, Mui Street, his writing now appears across national and international publications. This curated selection brings together the best of Godferýs writing. Read together, the collection charts the emergence of a significant New Zealand voice."--Publisher information ...Show more
$40.00
NZD
Category: Parenting
Over the past quarter century, Seth Godin has taught and inspired millions of entrepreneurs, marketers, leaders, and fans from all walks of life, via his blog, online courses, lectures, and bestselling books. He is the inventor of countless ideas and phrases that have made their way into mainstream busi ness language, from Permission Marketingto Purple Cowto Tribesto The Dip. Now, for the first time, Godin offers the core of his marketing wisdom in one accessible, timeless package. At the heart of his approach is a big idea- Great marketers don't use consumers to solve their company's problem; they use marketing to solve other people's problems. They don't just make noise; they make the world better. Truly powerful marketing is grounded in empathy, generosity, and emotional labour. This book teaches you how to identify your smallest viable audience; draw on the right signals and signs to position your offering; build trust and permission with your target market; speak to the narratives your audience tells themselves about status, affiliation, and dominance; spot opportunities to create and release tension; and give people the tools to achieve their goals. It's time for marketers to stop lying, spamming, and feeling guilty about their work. It's time to stop confusing social media metrics with true connections. It's time to stop wasting money on stolen attention that won't pay off in the long run. This is Marketingoffers a better approach that will still apply for decades to come, no matter how the tactics of marketing continue to evolve. ...Show more
$16.99
NZD
Category: Parenting | Series: Collins Little Bks.
A concise guide to English history and how England has come to be what it is today. Key events, people and places included. Beautifully produced, Collins Little Book of English History is a treasure in itself and makes a perfect gift for any England enthusiast.
$12.99
NZD
Category: Parenting | Series: Pocket Eyewitness
Become a space traveller and explore our Solar System and the Universe beyond in a cool mini encyclopedia that's packed with pictures. With space facts at your fingertips, Pocket Eyewitness Spacemakes learning about space fun. With more than 170 profiles on planets, stars, meteorites, and moons, you'll soon become an expert on all things space. Look closer at amazing planetary features, such as Jupiter's Red Spot and Mars' Olympus Mons, the tallest mountain in our Solar System. Find out, too, about the scale of the Universe, how telescopes work, see the life cycle of a star, the probes exploring other worlds, and life on the International Space Station orbiting our planet. All this and more can be discovered in Pocket Eyewitness Space, a pocket-sized guide that's out of this world! ...Show more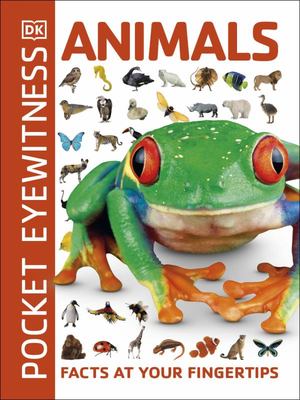 $12.99
NZD
Category: Parenting | Series: Pocket Eyewitness Ser.
Discover some of the strangest species in the animal kingdom in this brilliant mini book packed with pictures and bulging with fun facts. Pocket Eyewitness Animalsuses bite-sized chunks of information to make learning about animals even more fun. From flamingos to frogs, explore the animal family tree and find out the unique features that make an elephant a mammal, or a shark a fish. Inside you'll find everyday animals you might see in your garden as well as rare and exotic species. For each entry, this handy guide profiles habitat, diet, size, and behaviour, along with cool facts about the most curious creatures. Perfect for school projects and homework assignments as well as for young animal lovers, Pocket Eyewitness Animalswill tell you everything you need to know about animals in one pocket-sized book. ...Show more
$55.00
NZD
Category: Parenting
Much more than a history atlas, this book drops you right in the heart of the action, as 130 detailed maps tell the story of pivotal episodes in world history, from the first human migrations out of Africa to the race for space. After the foreword written by renowned broadcaster and historian Peter Snow , purpose-made regional and global maps present the history of the world as it happened, charting how events traced patterns on land and ocean - patterns of exploration, discovery, or conquest that created powerful empires, fragile colonies, or terrifying theaters of war. An interplay of text and graphics leads you around the page so that you can follow the story of civilizations through ancient, medieval, and modern times. But not every page is full of maps. At key points in History of the World Map by Map, broad, sweeping introductions provide a chance to step back and look at entire periods, such as World War 2, or to explore overarching themes, such as the Industrial Revolution. Picture spreads, meanwhile, focus on epoch-defining moments or developments, such as fascism and communism, and the invention of printing. ...Show more