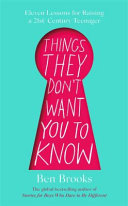 $34.99
NZD
Category: Parenting
A GUIDE TO TEENAGERS FROM THIS CENTURY - FOR PARENTS FROM THE LAST CENTURY Written from a teenager's perspective, this is a unique field guide for parents about the secret lives of 21st century adolescents - from mental health to self-harm, from drugs to sexting - and how you can help them and yourself through these turbulent years without losing their trust. Things They Don't Want You To Know is a look at modern life through the eyes of a teenager, by someone who recently graduated from that club. Along the way, Brooks takes readers on a tour of the websites that most parenting manuals would rather pretend don't exist. Yet this is the stuff your kids are all over, on a daily basis. There is porn, there are hallucinogens, there is cyberbullying and suicidal ideation. Brooks' point is that to remain completely unaware of their existence can mean that as a parent, you end up getting blindsided. And being blindsided means you won't know what to say and how to say it when things go wrong. You'll be surprised, shocked but you'll also be reassured. This book will help you to understand and support your kids. They won't thank you, but they might hate you less. ...Show more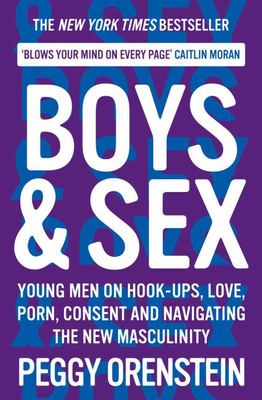 $32.99
NZD
Category: Parenting
NEW YORK TIMES BESTSELLER Now in paperback--Peggy Orenstein, author of the groundbreaking New York Times bestseller Girls & Sex, turns her focus to the sexual lives of young men. "Eye-opening.... Every few pages, the boy world cracks open a little bit.... Even in the most anxiety-provoking moments of Boys & Sex, it's clear that Orenstein believes in the goodness of boys and the men they can become, and she believes in us, as parents, to raise them" (New York Times Book Review). Peggy Orenstein's Girls & Sex broke ground, shattered taboos, and launched conversations about young women's right to pleasure and agency in sexual encounters. It also had an unexpected effect on its author: Orenstein realized that talking about girls is only half the conversation. Boys are subject to the same cultural forces as girls--steeped in the same distorted media images and binary stereotypes of female sexiness and toxic masculinity--which equally affect how they navigate sexual and emotional relationships. In Boys & Sex, Peggy Orenstein dives back into the lives of young people to once again give voice to the unspoken, revealing how young men understand and negotiate the new rules of physical and emotional intimacy. Drawing on comprehensive interviews with young men, psychologists, academics, and experts in the field, Boys & Sex dissects so-called locker room talk; how the word "hilarious" robs boys of empathy; pornography as the new sex education; boys' understanding of hookup culture and consent; and their experience as both victims and perpetrators of sexual violence. By surfacing young men's experience in all its complexity, Orenstein is able to unravel the hidden truths, hard lessons, and important realities of young male sexuality in today's world. The result is a provocative and paradigm-shifting work that offers a much-needed vision of how boys can truly move forward as better men. ...Show more
$24.99
NZD
Category: Parenting
From the bestselling author of Living with IT and Taming the Black Dog comes a practical guide for parents of anxious children. If your child is too often: seeks reassurance, invents illnesses, avoids interactions, avoids trying new things, becomes emotional over minor upsets, or is clingy, afraid to s leep alone, reluctant to go to school or scared of numerous things ... then anxiety could be an issue for them. Commonly, a child experiencing anxiety doubts themselves, lacks confidence and becomes easily overwhelmed. So how do you best help them? From Australia's bestselling anxiety expert, Bev Aisbett, comes an essential guide for these anxious times. Worry-Proofing Your Anxious Child is a calm, clear and, above all, reassuring book to help parents (and teachers) of anxious children. Filled with simple explanations and practical advice, this book will assist everyone who wants to help a child overcome their anxieties and learn to live more confidently. Bev Aisbett is Australia's leading author in books around managing anxiety. In 1993, after recovering from severe anxiety and depression herself, Bev turned to her artistic talents to create the first of her ground-breaking illustrated self-help books Living with IT: A Survivor's Guide to Panic Attacks, which rapidly became a national bestseller, with over 200,000 copies sold. In 2013, HarperCollins published the fully revised and updated 20th anniversary edition of this classic book.   ...Show more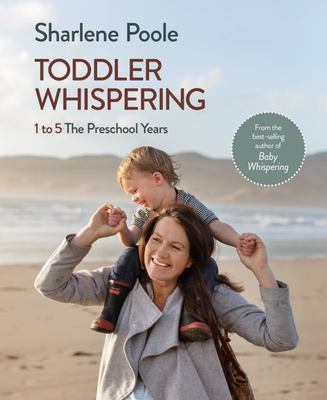 $38.00
NZD
Category: Parenting
A companion guide to the incredibly successful book Baby Whispering, which covered the first year of a baby's life. This new book covers the following four years, divided into two main age groups (1-2 and 2 -5) looking at commonly asked questions from parents, plus material on routines, significant cha nges during these times, sleeping, eating, toilet training, screen time, behaviour management, sibling adjustment, different personalities, child care options and more. All this is covered simply and in a very easy-to-read manner that the tiredest of parents will be able to understand. ...Show more
$48.00
NZD
Category: Parenting | Reading Level: 4 Non Fiction
Now you have a newbaby, what are you going to do with it?! Babies & Toddlershas you covered from your very first day with a baby. With the help of more than 30 medical and other experts, in her friendly and reassuring way, Kaz Cooke tells you everything you need to know about being a parent for the first three years. breast or bottle-feeding * crying * sleeping * coping * mum health & body image * developmental milestones * common illnesses & worries * eating * fun stuff * toilet-training * tantrums (theirs and yours) * extra stuff for dads * and much, much more. Fun, practical, and updated every year, Babies & Toddlersis full of trusted info from Kaz, just like you found in her pregnancy book, Up the Duff. ...Show more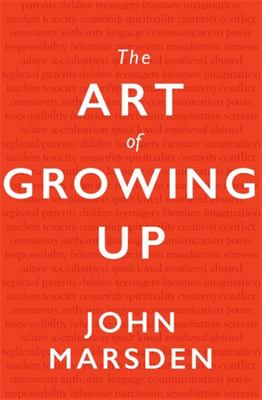 $39.99
NZD
Category: Parenting
When I hear parents say 'I want my children to enjoy their childhood; there'll be time when they're older to learn about those things', I hear the voices of those who are scared of the vastness of the universe. These adults have a view of childhood as some kind of discrete interval, rather than just a f ew years from the continuum of life. How fortunate that the spirit, courage and curiosity of many young people remain largely undefeated by such adults. John Marsden has spent his adult life engaging with young minds - through both his award-winning, internationally bestselling young adult fiction and his work as one of Australia's most esteemed and experienced educators. As the founder and principal of two schools, John is at the coalface of education and daily witness to the inevitable and yet still mysterious process of growing up. Now, in this astonishing, insightful and hugely ambitious manifesto, John pulls together all he has learned from over thirty years' experience working with and writing for young people. He shares his insights into everything - from the role of schools and the importance of education, to problem parents and problem children, and the conundrum of what it means to grow up and be 'happy' in the 21st century. ...Show more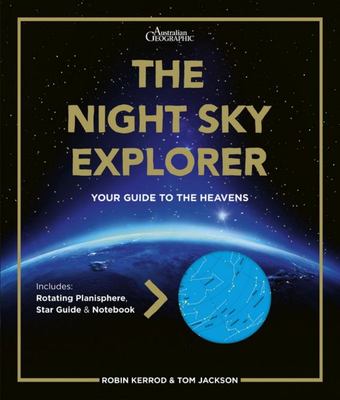 $49.99
NZD
Category: Parenting
The Night Sky Explorer contains all the information and equipment the aspiring astronomer needs to get started. The hardback case contains two separate pocket size books, designed to travel with you on star gazing trips: • Mapping the Skies includes maps of the major constellations for each month of the year & a guide to spotting them, along with a complete introduction to the history of astronomy and astrological discoveries, including the origins of the constellations and the stories behind their names • The Sky Watch Notebook is designed to help you keep track of what you see at different times of the year. It includes tips throughout for what to see and how to record your observations. • The star of the kit is a Southern Hemisphere planisphere, in a pocket flap inside the front cover. The planisphere has adjustable disks that reveal celestial phenomena for any given time of year. The Night Sky Explorer will appeal to anyone who has ever looked into the night sky and wanted to know more about the constellations over their head. ...Show more
$16.99
NZD
Category: Parenting | Series: Collins Visual Dictionaries Ser.
Use your senses to learn the most important words and phrases in Mandarin Chinese With colorful images and a free audio download, this attractive and practical guide to Chinese language and culture helps you find what you need quickly and easily. Also contains a Chinese-English and English-Chinese Index . Everyday words are arranged by theme with attractive, up-to-date images to guide you.Each topic presents the most practical phrases to support your first steps in Mandarin Chinese. Download the audio to follow and practise each word and phrase. Helpful cultural and country information is included to enhance your appreciation of China and its people. ...Show more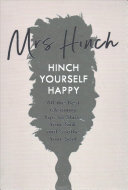 $34.00
NZD
Category: Parenting
Preorder Mrs Hinch's book now . . . _____ Hinch Yourself Happy All the best cleaning tips to shine your sink and soothe your soul. Discover how to transform your home. Cleaning doesn't have to be that job you dread. Not when Mrs Hinch is here to show you her sparkly ways! Mrs Hinch has taken the na tion by storm with her infectiously addictive charm, clever cleaning hacks and her passionate belief in the life-changing magic of tidying. With the help of her cloth family, Mrs Hinch will help you turn your house into a home. Whether you're a daily duster or looking for a monthly makeover, HINCH YOURSELF HAPPY shows you how to create not only a cleaner house, but a calmer you. If you want your kitchen to sparkle like Meghan Markle, then this is the book for you. ...Show more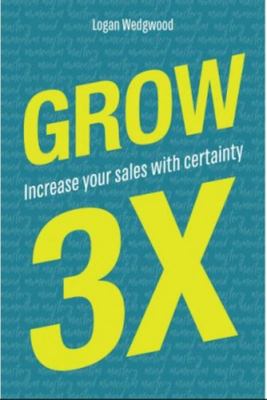 $35.00
NZD
Category: Parenting
Whether you are a business owner, salesperson or entrepreneur, you are in the business of selling - and this book is here to help you. New Zealand sales and management consultant Logan Wedgwood shares the lessons and strategies he has learnt at the sales coalface and by working with large and small busi nesses to enhance their performance. Learn how to: maximise your strengths and those of your team; set goals and achieve them; build habits that will help you grow your business with certainty; implement sales strategies that work; maintain momentum and enhance your productivity. Organised into three key sections: Mind, Momentum and Mastery, this is a highly readable insight into the mistakes that salespeople make, and the changes that can lead them to deliver better results for themselves and their customers. Packed with case studies, practical exercises, resources and workshops for business leaders and their teams, Grow 3X is an essential resource for anyone looking to maximise sales and grow their business. Logan Wedgwood candidly shares his own missteps and the lessons he has learned since he first embarked on a sales career, selling burglar alarm systems door-to-door. ...Show more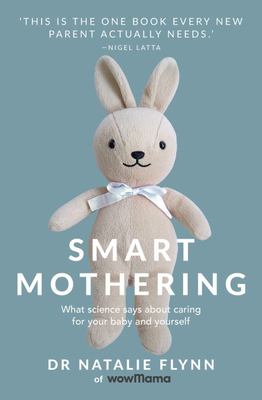 $39.99
NZD
Category: Parenting
Psychologist Dr Natalie Flynn has examined all the research on key baby topics such as feeding, sleeping and crying. The result? Smart Mothering, a revolutionary book that separates the facts from the opinions.  Find out what research says about the dilemmas so many parents face: What if I can't breast feed? Is it best to feed on demand? Can I leave my baby to cry? Should I vaccinate my baby? Is bed-sharing a good idea? Natalie provides the answers to these questions and many more.  Smart Mothering is objective, accessible and practical. With helpful tips, succinct summaries and clear diagrams it demystifies the often confusing and overwhelming world of parenting. This book is a must-read for anyone who wants to make informed decisions about how best to care for their baby. ...Show more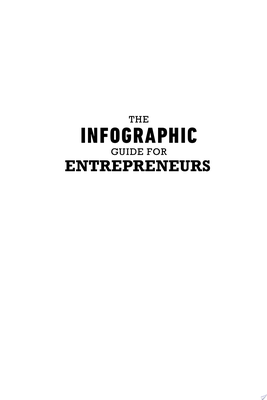 $28.99
NZD
Category: Parenting | Series: Infographic Guide Ser.
Everything you need to know about starting your own independent business--and earning big--through easy-to-understand infographics.   Start your dream business, optimize your freelancing, and max out your earnings with this graphic guide to everything you need to know to work for yourself. The Infogra phic Guide for Entrepreneurs includes information on how to leverage your skills to earn money, how to apply for a business loan, how to keep track of your earnings and expenses--and much more. With clear and accessible infographics on topics such as "What Makes My Business Unique?"; "Sell Yourself Without Selling Out"; "Feast or Famine: How to Stay Afloat During Dry Spells"; and "Hiring Your Squad," you'll learn how easy it is to work for you ...Show more